.
.
NO TEARS
Discussion of Medical Consequences of Ionizing Radiation,
Especially at Chernobyl, Fallujah & Fukushima,
With Concerns for Future Events.
.
Dr. Helen Caldicott and Dr. Wladimir Wertelecki
Nuclear Power Devastates Human Health
.
Dr. Wladimir Wertelecki Chernobyl Congential Malformations
New York Medicial Symposium 2013
.
Dr. Chris Busby on Falujah Congenital Malformations
...congenital malformations and cancer at astronomically high rates...
"higher than anything that has ever been published
in the whole history of medicine...."
.
***************************************************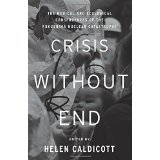 Crisis Without End
The Medical and Ecological Consequences
of the Fukushima Nuclear Catastrophe
Helen Caldicott
***************************************************
this is Sara Wynd
and I Am
ChamberEstate
Produced by ChamberEstate